How might we leverage Spot to promote circular design in construction?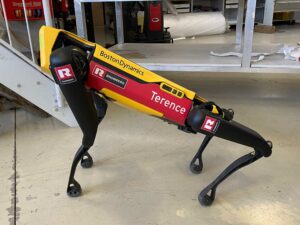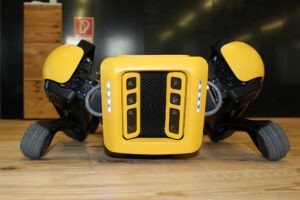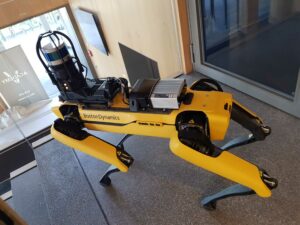 About Rhomberg Bau

The Rhomberg Bau Group headquartered in Bregenz, Austria and Zurich, Switzerland, is operating in the construction, resources and railway sectors. The group currently employs around 2800 people and has locations and subsidiaries in Austria, Switzerland, Germany, Ireland, United Kingdom, Australia and Canada. In its construction division, the Rhomberg Bau Group acts as a full service provider and offers solutions and services for all phases of the life-cycle of public and private buildings. The range of services provided by the Rhomberg Bau Group extends from design and project development to (private) housing, public and private sector civil engineering and building through to conversions, refurbishment and the management of real estate and business parks.
Problem statement
Our challenge revolves around Spot, a nimble and resistant robot developed by Boston Dynamics. Spot is characterized by a 360° vision (through the HoloBuilder), remote control, and a superior ability to carry payloads. In addition to the advanced technology, Spot provides users with a developer platform lending itself to versatile applications. Customers may use Spot's mounting rails, payload ports and software development kit to customize the robot and "train" it to perform diverse tasks.
Spot is particularly useful in instances that require remote operation and autonomous sensing. For example, it is used in the mining industries to inspect tunnels and ensure safe working conditions, in the oil and gas industry to inspect facilities, but also in the healthcare industry to triage patients, deliver food and medicine, as well as disinfect rooms without involving the human workforce.
Construction offers the potential to develop compelling use cases for Spot. In particular, Spot may be used to inspect construction sites, create digital twins, and compare as built conditions to Building Information Modeling (BIM). The applications of Spot to the construction industry may help real-estate companies to improve efficiency of their field operations, offer safer working conditions to field workers, and improve management of the construction materials by exploring new business models design.
At the InnoDays, we want to focus on how Spot may be used to promote circular design in construction. Circular design refers to the design of products and economic systems allowing resources to follow a reuse and recycle loop. Circular design is an especially relevant topic in construction due to the high environmental footprint of the industry. The construction industry accounts for 40% of the world's waste and CO2 emissions and 40% of resource and energy consumption. Construction companies increasingly turn to circular design as a possible solution to reduce the industry's environmental impact. Technology is a precious ally to enable a faster transition to circular design.
For instance, the concept of digital twin – a digital replica of buildings with accurate information about all the assets and materials employed- is promoting circular design through digital identity. Consider the following, large-scale investors in real-estate, such as banks and insurances, are most often focused on the value of their property or of the land they own. Very rarely, they have an overview of the materials that have been used in construction. This means that when the buildings are teared down, construction materials end up being treated as waste with associated economic and environmental costs. Digital twinning and the concept of material passport enable economic transactions before such products and material are physically available for reuse creating economic benefit for both the owner of the property and the environment.
Spot's current and potential technological applications may be the basis of several new use-case towards a more "circular future".
The opportunity
How might we leverage Spot to promote circular design in construction?
We are looking for solutions that make use of Spot on construction sites. The developed solution may be a new technical application based on Spot's developer platform, or a new use case of the existing tech that transforms management of construction sites. 
While developing the solution, please consider:
– Circular design: How does the application promote an economy of re-use? How are the materials and resources on the construction field valorized through the use of technology? 
– Technical feasibility: What technical requirements does the application have? Is new development work required?
– Business model: How does the application generate value for the construction company and real-estate owners (can be both savings and completely new business opportunities)? Who are possible partners to develop and run the application? Who are the main users?
Let's work together to find new ways to transform the construction industry!
Collaboration incentive
The collaboration incentive will be announced soon.
Sign up to tackle the challenge