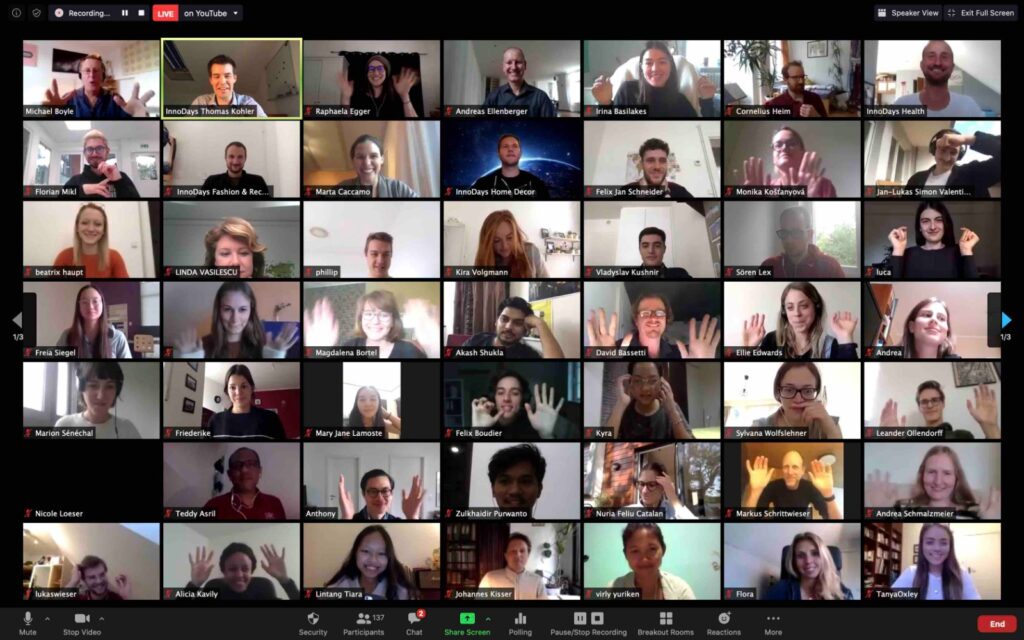 InnoDays #CircularEconomy – Recap
From May 13-15 we ran the second Virtual InnoDays of 2020. The topic of the event was Circular Economy, a topic that we have already explored in previous events in Vienna and Berlin. Participants from WU Vienna, TU Berlin, Career Foundry, and the East West Center joined us from all over Europe, Southeast Asia, and beyond. Our partners from Plasticpreneur challenged the InnoDays participants to come up with useful products and viable business models from used plastic resources. The objective was to develop ideas that could serve as a springboard to empower communities, while creating a positive impact on the environment. We received 120 video submissions that we used to form 24 teams.

The teams
We organized the 24 teams who joined the event in 5 categories: Fashion, Health, Education, Sports&Leisure, Construction & Infrastructures, and Home Decor. The teams developed several exciting ideas during the 48 hours. 40+ mentors and several local experts from Southeast Asia and Africa helped the participant to improve the feasibility of their solutions and the fit with local communities. The projects included flip flops, water purification straws, crutches for amputees, paddles, pipes, windmills, self-watering flower pots, picture frames, and trash cans, among the others. Some pictures of the early prototypes follow.

Winner
Selecting a winner took time due to the high-quality of the solutions and great effort from all the teams involved. After a careful evaluation of all the pitch-decks, pitch-videos, and implementation plans, we announced the Virtual InnoDays Circular Economy winner: Plantsform. Plantsform is a self-watering vase made of recycled plastic. The winning team has already started to discuss implementation plans with a South African maker space that is already working with a Plasticpreneur machine.

"Although the pandemic has brought restrictions, it also was a huge possibility for me. I would have not have been able to come to InnoDays if it was offline. I was happy to find out that it was online. It was a great opportunity for me" says Anna Semenko, one of the Plantsform team members from Ukraine. She collaborated with Edward Sommerville and Ana Katherine Linseisen from the WU Vienna, Subhin Lee (TU Berlin) and Vinesh Naidoo (Career Foundry) from South Africa. Congratulations!
What's next?
Plasticpreneur has identified many promising projects, besides Plantsform. Therefore, we have high hopes in the event's follow up. Some of the ideas have already been prototyped. Click Pick, a modular picture frame, is a case in point. Many other ideas are being currently discussed with possible implementation partners among the InnoDays mentors, such as Borealis and the East West Center, and within the Plasticpreneur network. We look forward to keep you updated with progress during the coming months. Stay tuned!

Highlights
1 challenge
120+ participants
40+ mentors
3 continents
24 prototypes