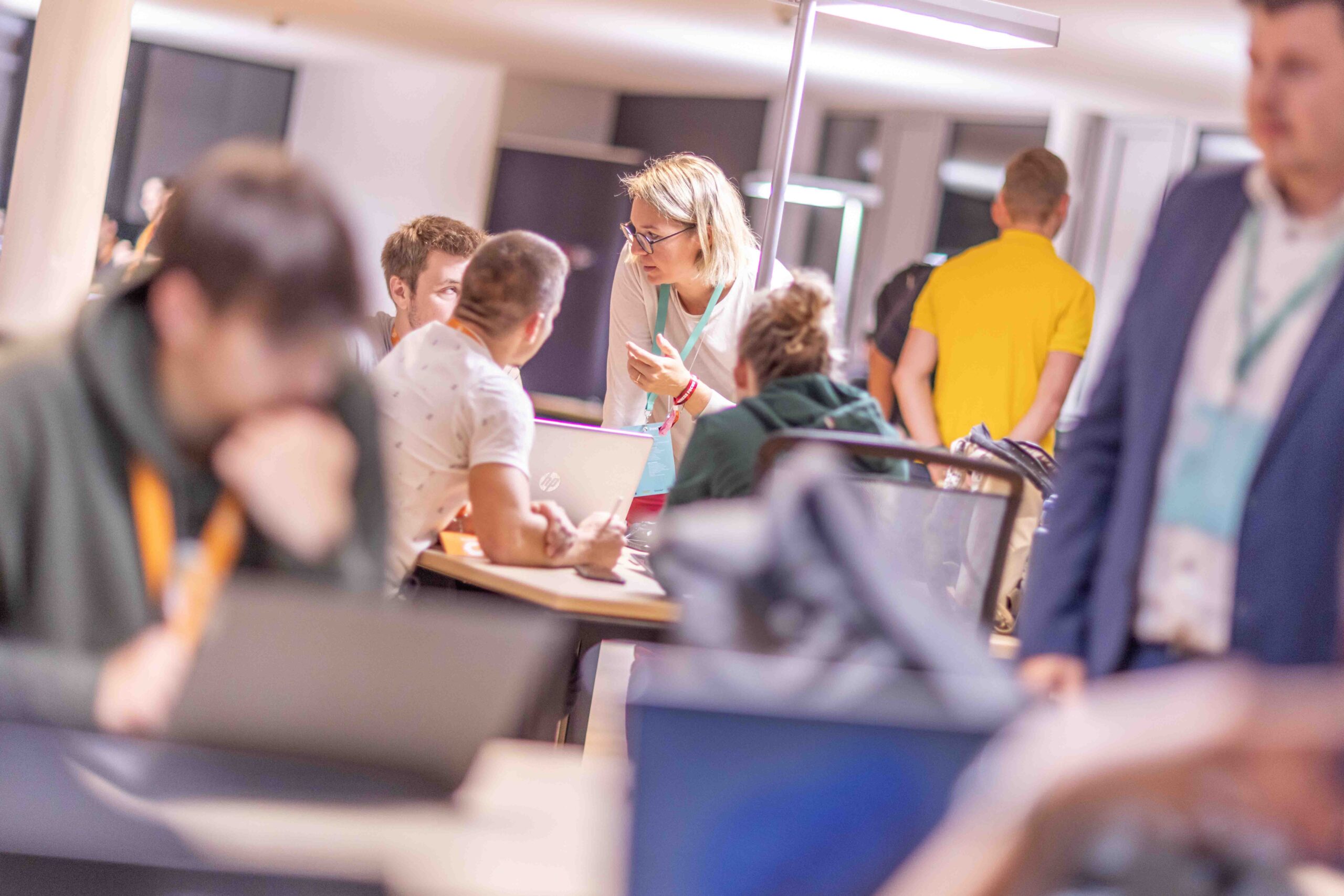 InnoDays Fall 2023 – Recap
3 Challenges, 17 teams, 48 hours; the "InnoDays Fall 2023" brought companies and young talents together to develop innovative solutions with a positive impact.
Dornbirn, October 18th-20th, 2023. "From idea to prototype in 48 hours" – Under this motto, more than 70 creative minds from different academic institutions collaborated to develop innovative solutions to three exciting challenges from Tridonic, Omicron Electronics and BTV Leasing. The event took place at Gravitat – BTV House of Innovation.

Our participants worked on solutions to the following specific challenges:
How might we use digitalization to simplify making sustainable leasing investment for our customers? by BTV Leasing
Team GreenLease Pioneers won the category with their platform making sustainable leasing easy for customers from product installation to its sale. The same team won the "most creative photo of the event" photo by WISTO.
How might we use AI to share knowledge with energy industry experts to ensure the stability of energy grids? by Omicron Electronics
We had three winners in the AI-powered knowledge-sharing category. Team OmiChat focused on capturing and verifying data from field technicians and Omicron employees to feed an AI-powered chatbot. Team OmiConnect emphasized the social aspect of data-sharing among partners, customers and experts worldwide through a specialist platform. Team OmiConnect was also awarded a special prize as the team with the greatest entrepreneurial drive by Skinnovation. Finally, Team OmiBot used the InnoDays to strengthen some aspects of the Omicron AI assistant prototype under development within the three-month InnoLab program. 
How might we harness the power of generative AI to revolutionize Tridonic's lighting solutions and internal processes, creating a brighter, more efficient, and sustainable future? by Tridonic
Team Hands4Light aimed at using AI to create light profiles that could be customized with gestures. Team Coolesteam 123 presented a next-generation chatbot, which could either give solutions to a problem or redirect customers to competent employees. Microsoft awarded the innovative chatbot a prize for the best use of AI. Among the Tridonic teams, a special mention goes to team VisualSpectrum – winner of the
community award.
We have invited all teams and participants interested in developing their ideas further to do so within our InnoLab framework. We look forward to the next phase!

InnoDays Factbox
– October 18th-20th, 2023
– 3 challenges, 17 teams, 25+ mentors
– InnoDays brings together innovative minds to develop new solutions to key challenges in 48 hours
– All information and innovation challenges at https://www.innodays.org/fall2023