UN Climate Simulations workshop during the Innovation Days Vienna
Would you like to learn the link between global climate combat and circular economy? According United Nations Framework Convetion on Climate Change (UNFCCC), circular economy is a must to achieve global climate goals set in Paris Climate Accord. If you are up to go further understanding the place of circular economy in climate emergency, you should participate in the UN Climate Simulations Workshop in Innovation Days Vienna on 17 May in between 15:00- 17:00 !
About the simulations
World Climate Simulation developed by Climate Interactive and Massachusetts Institute of Technology (MIT) is a role playing exercise of UN Climate Summits. It offers its participants to
develop climate action plans of the UN parties/ party groups they pretence
negoatiate their proposals with other countries/ blogs
see the actual (sceintific) outcomes of their proposals with respect to a series climate change data by 2100 via scientific policy simulator C-ROADS

Who is using World Climate Simulation?
Thousands around the world have participated in the World Climate Exercise since its debut. Audiences have included: Nobel-prize winning scientists, a former US Secretary of State, university presidents, European Union policymakers, oil executives, the U.S. Forest Service, MIT Executive MBA students, and countless classrooms from high schools to universities. In 2015, it was featured at the White House at an event on climate change education. The international youth think tank CliMates even runs a campaign called COPinMyCity for young people around the world to lead World Climate in their communities and link efforts to advance international climate policy.
"I have to tell you — this works, it is important, and it is already getting broad dissemination, because I used it."

John Kerry, United States Secratary of State
What is the learning outcome of the workshop?
This well organized interactive learning tool enable different target groups from university components to business world or local/ national governments to understand what are the fundamentals behind acting collectively against climate change. This workshop has been designed as a demo of World Climate Simulation. The role playing chapter and the use C-ROADS will be intoruced to participants by linking a series of aspects on the relationship between circular economy and global climate combat. Upon the completion of demo, the new potential users of these tools will be encouraged to take action in their business via the simulations.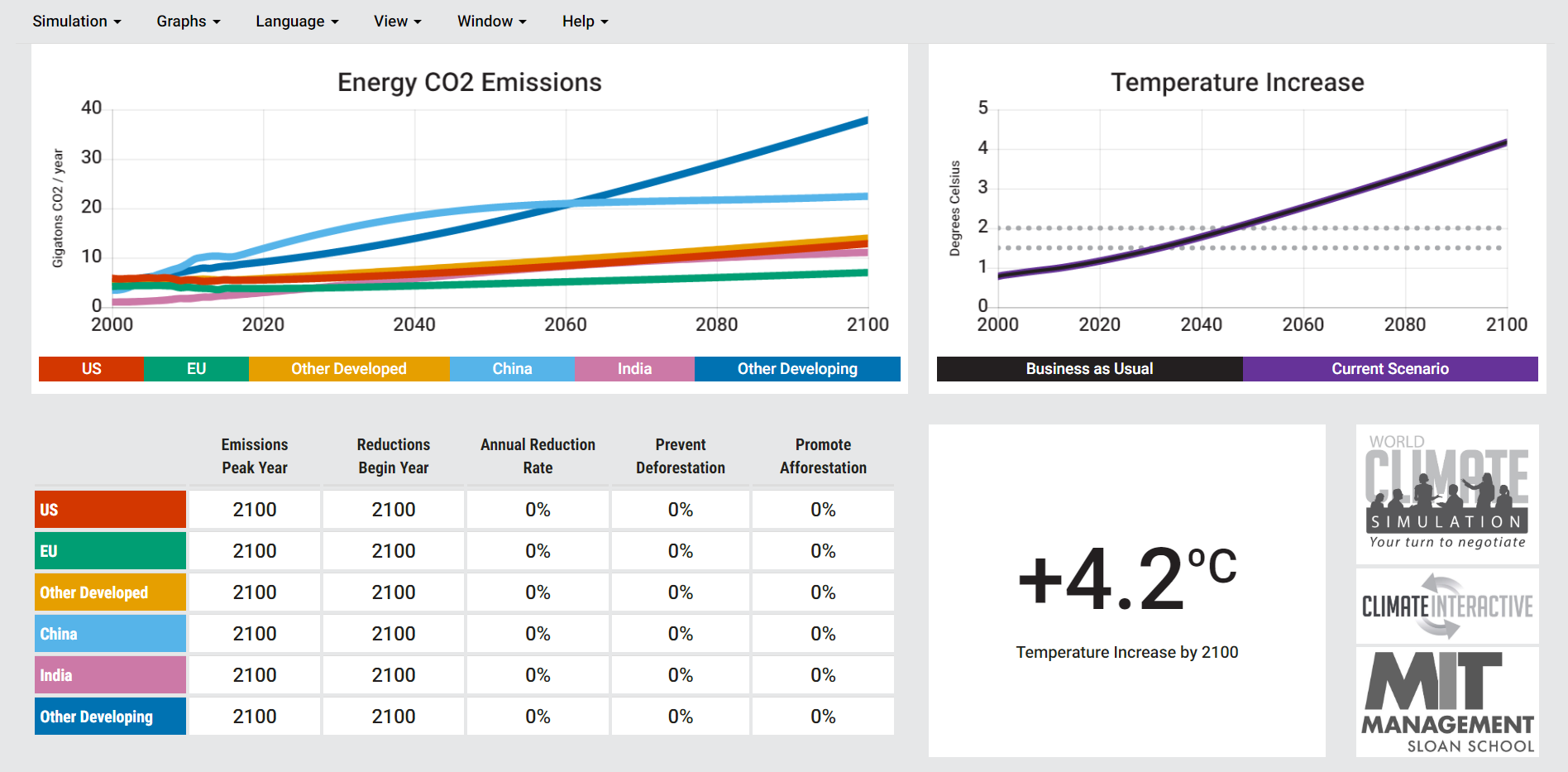 Global BAU Climate Action Scenario in C- ROADS
What is more in the workshop?
Climate Interactive team is developing another role playing exercise which is a fiction UN Climate Summits whose parties are representatives  of different sectors (eg. Energy Supply, Energy Efficiency, Carbon Pricing ) relate to energy. En-ROADS will be the sicentific policy simulator of this role palying exercise. The demo within our workshop will also include use of this new tool that will be introduced to climate and energy sector soon.
Both simulation modules (Word Climate and World Energy) will ensure its participants to look their business from a different standpoint while carrying it through economic circularity.
More with World Energy Simulation: