How might we leverage the power of AI (Artificial Intelligence) to improve our customer support?
About us
To enhance our customers' success at Be-terna, we need to provide them with best in class support for their business solutions. A transparent knowledge transfer and the ability to solve customers' problems is at the core of our business. To achieve this, we need to guarantee continuous innovation and revenue increase through SLAs (Service Level Agreements) besides generating new sales. The success of our company is based on a consequent focus on 9 branches. Production of food, chemicals or pharma products for B2B and B2C customers just to mention a few. Prominent customers include companies like Darbo, Verla Pharm (XENOFIT) and Hermes Arzneimittel.
The challenge
In total we have 1.000 customers in 9 different branches and at different stages of the product lifecycle. Our support engineers have to deal with a high variety of products, branches, languages, fiscal restrictions and versions. Our decentralized support divisions provide customers with daily assistance using a ticket system. We use the open source tool "OTRS" to track all incidents and questions. The tickets include active requests to be solved and solutions of former requests. We also find ways and ideas to fix customers problems in vendors' solution databases, such as Microsoft, and in external platforms, like "Stackoverflow".
The opportunity
Sometimes we receive the same problem from different customers within a certain time corridor. For instance, three of our pharma customers request a solution for an issue regarding lot management. Is this a problem just for these three particular customers? Is this a question which might come up at our other pharma customers as well or could this also be an issue crossing over to other industries such as food production for which lot management is also an issue? Is this an issue based on a technological problem within the software or is it based on new laws and regulations?
These are question we want get answers as quickly as possible to be proactive in our support. We dream about having a solution for a problem before the customer calls us. We envision being able to predict upcoming issues based on a few data points and to provide solutions beforehand. What if we could forecast the impact of upcoming events?
We believe that …
… AI can help us to solve issues 24/7/365 in all time zones and cultural environments
… AI can help us to be quicker in problem solving
… AI can help us to find patterns
… AI can help us to build solutions based on patterns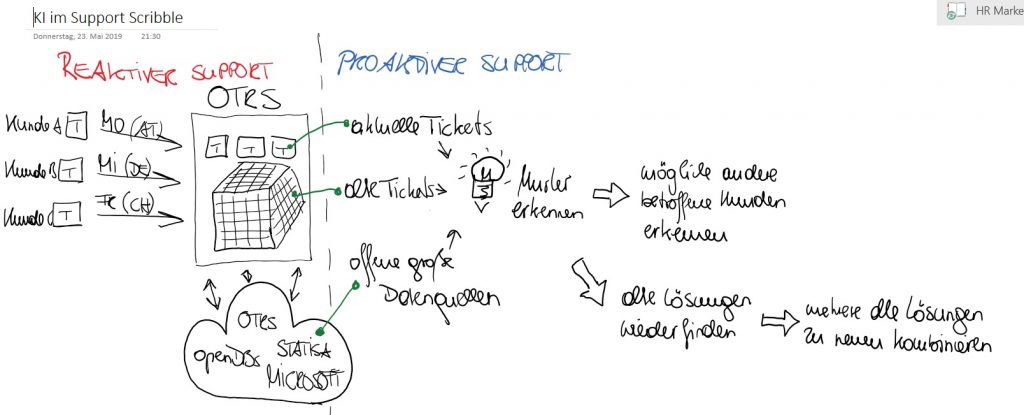 We are looking for a concrete solution that leverages the power of AI to improve our customer support.
Collaboration Incentive
We know that within 48 hours we will not get the finished solution, but we are eager to see how the solution could look like. As this is a crucial part of our business, we will offer the best project team the opportunity to present the prototype to our board of directors to discuss potential for a paid pilot project.