How might we design a rental service for sports-fashion products in a way that delivers convenience and value for customers and that reduces environmental impact?
About PYUA
Sustainable fashionable functional clothing – this is what PYUA stands for since its founding in 2008. As the love of nature is both the drive and inspiration for PYUA, most of our products are made from sustainable and recyclable materials. Through our partnership with the Wear2Wear Organisation, our 100% Polyester Products (80% from our whole collection) can be recycled. Since sustainability also means using products for a long time and in a variety of ways, a modern, clean design has also become the hallmark of PYUA. Our multi-functional and high-quality clothing is not only suitable for your mountain adventure, but also for the urban environment. To extend the life cycle of our clothes, we give advice to customers about how to take care of the clothing and if needed we offer repair services in partnership with Outdoor Service. Our aim is to create "the last jacket you will ever buy".
PYUA is co-owned with ABS, the Freeride Filmfestival, and the Freeride Experience by Spin Capital. The headquarters is in Munich, its Austrian office is based in Wattens, Innsbruck – around 35 employees are working in both locations.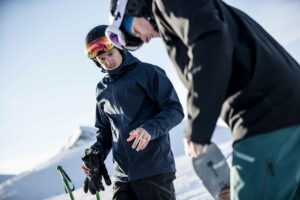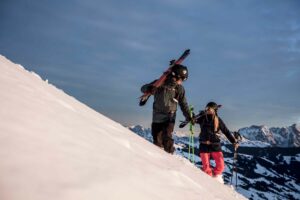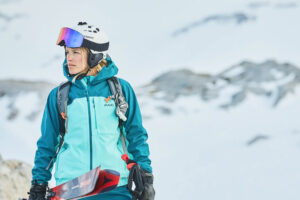 Our challenge
The pandemic has upended the fashion industry, creating mass-scale supply chain disruptions and making people re-evaluate their shopping habits. The fashion industry and the apparel sector more broadly have been affected the most among consumer goods sectors. All in all, a 27–30% reduction in year-on-year revenues for the global fashion industry is predicted for 2020 (McKinsey, 2020). Currently, due to the consequences of 'lockdown' and social distancing measures, many retailers are facing unprecedented challenges in dealing with the deadstock resulting from clothes and accessories they were not able to sell. Calls for a recovery that is in alignment with other global challenges have never been louder. Many see the disruption caused by the COVID-19 outbreak as a promising opportunity to build a resilient and low-carbon economic solution.
– the resale market growth  in the next 5 years is expected to reach 414%;
– 71/% of customers are interested in circular business models like rental, resell, refurbishment.
In order to elevate our sustainability practices to the next level, PYUA is already developing recycle-, refurbishment-, and resell concepts as part of our CSR-strategy. Yet, designing an innovative and desired rental concept is a challenging endeavor.
How might we design a rental service for sports-fashion products in a way that delivers convenience and value for customers and that reduces environmental impact? How can a circular rental concept work? What if we could convince customers to rent and use circular products instead of buying new apparel? We are looking for a scalable, innovative, and sustainable B2C rental concept that can be applied online, offline, and/or multichannel.
Considerations
Existing rental concepts for hardgoods (e.g., NEEDIT) can hardly be applied to PYUAs functional products since quality aspects (e.g., water column or simply a water pressure that a fabric can withstand) have to be taken into account. Furthermore, infrastructure and sustainable practices for cleaning and refurbishment are still missing. Another difficulty is that although a few providers already launched their developed solutions, these services are yet not attractive enough for end-consumers. The adoption remains low despite promising market dynamics. Keep in mind that your idea can only work, if it is easy and convenient to use and if it provides the customer with substantial added value. Consider the following classification of existing solutions in the rental ecosystem, to inspire your approach.
| | | | |
| --- | --- | --- | --- |
| Peer2Peer | Brand-owned | Platform | Service solutions |
| Renting from and offering hardgoods to other private users. | Sport brands rent directly to end customer. | A platform acts as an orchestrator between (sport) clothing and hardgoods brands and the end customer. | Service providers support the brands with refurbishment, cleaning, and rental system solutions. |
| | | | Awayco (Service provider) |
To shape your idea, consider the concept "rental" with its different possibilities like subscription or leasing. It is also crucial to take into account possible collaborations with other brands, stores, or service providers. To make the idea implementable it will be essential to integrate partners (e.g. retailers) into the existing business model of PYUA. Your innovative concept should also secure the quality aspects of PYUA.
Collaboration incentive
We invite the three teams with the most innovative and best implementable ideas to join our PYUA team in Wattens (Tirol) for a workshop to pitch their idea and discuss it further before taking part in a team event including networking opportunities.  The winning team will be offered paid internships in the sales + marketing department at PYUA.