How might we design integrations that provide or consume stock data to enable circularity in the kitchen?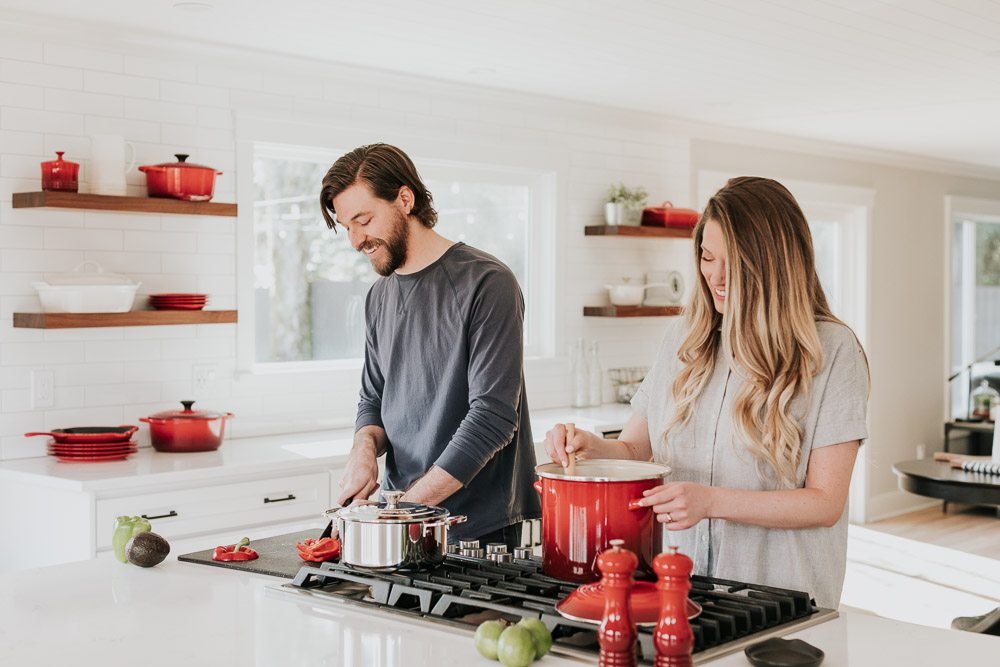 The promise of the circular economy
What we eat – and how we grow, process, and deliver it – constitutes a major driver of climate change with a third of all greenhouse gas emissions. Changing our food systems based on the circular economy principles is one of the most powerful things we can do collectively to tackle climate change. As individuals, the kitchen shapes our shopping, cooking, and eating habits. To date, kitchens are part of a linear system: we take ingredients, cook, consume and dispose. Waste is built into the system. Food waste is especially problematic: 30% of all food produced is wasted, and as consumers, our waste constitutes 60% of this global food waste (see challenge resources).

Circular economy for food system illustration
Data as an enabler of circular behavior
Digital technologies, such as the Internet of Things (IoT), big data, and data analytics are essential enablers of the circular economy. Technology has the potential to overcome the barrier of a lack of information transfer across value chains.
This problem is evident in our food systems. Data about food is siloed, not standardized, not exchanged, and not integrated across the food journey. Food waste is often related to a lack of information:
– When we shop and don't know what we have at home, we overbuy and risk that we have to throw away still edible food.
– At home, when we store products, we frequently lose sight of what we have left and when things expire.
– We usually don't know what we can cook with available ingredients or how to use up products about to expire.
Expiration dates, for instance, are not transferred from producers to consumers. The information what we buy remains with retailers. At the storage step, stock data is neither tracked nor integrated with retailers or appliances. Regarding cooking, appliances and cooking apps don't have stock data available.
What if you always knew what you have in your kitchen from anywhere and anytime with a digital stock? We believe that information about the food we store can contribute to tackling food waste. You can shop exactly what you need if you know what you have in stock. You could get alerts about expiring products along with recipe suggestions for what you could cook.
As kitchens are becoming smart, more data becomes available. Smart kitchens technologies are kitchen appliances connected to the internet. Connectedness allows devices to communicate with each other and be controlled remotely. Examples of smart kitchen appliances include smart fridges, smart ovens, or smart cooking machines.
About KIWI

Our mission at KIWI is to provide people with information about the food they store to make healthy living easy for everyone. We are building an open platform to integrate stock data such as the quantity of product available, storage location, expiration date, cooking inspirations, and availability at retailers.
We connect partners along the food journey to aggregate, standardize and exchange data and make it available to consumers and partners. Kitchen ecosystem partners such as food brands, retailers, shopping apps,  storage solution providers or appliances, and cooking apps can build KIWI integrations to enhance their solutions with stock data. Integrations either provide or consume stock data. Consumers connect the apps and devices from their kitchen with KIWI integrations to make stock tracking easy and improve shopping, storing, and cooking.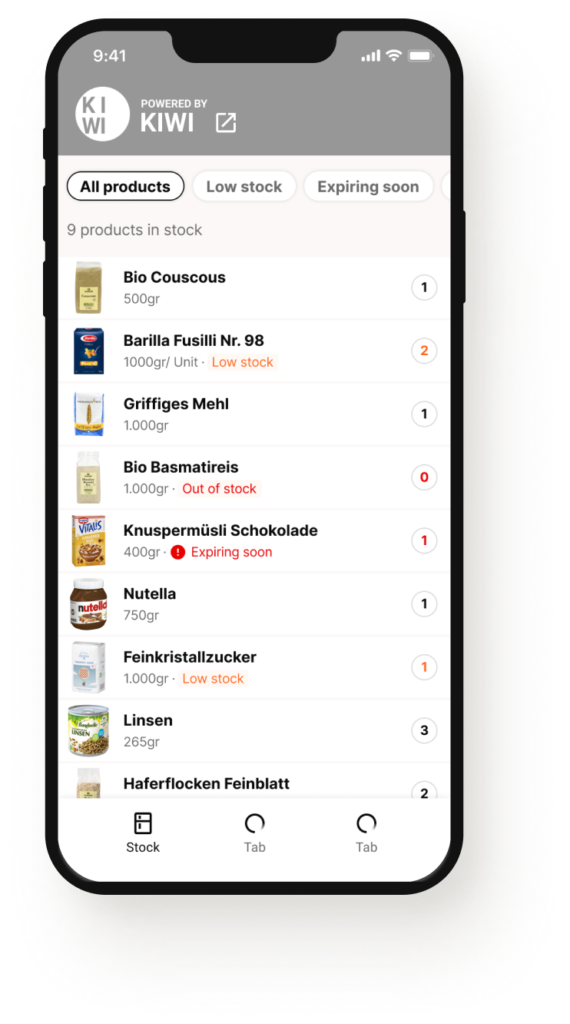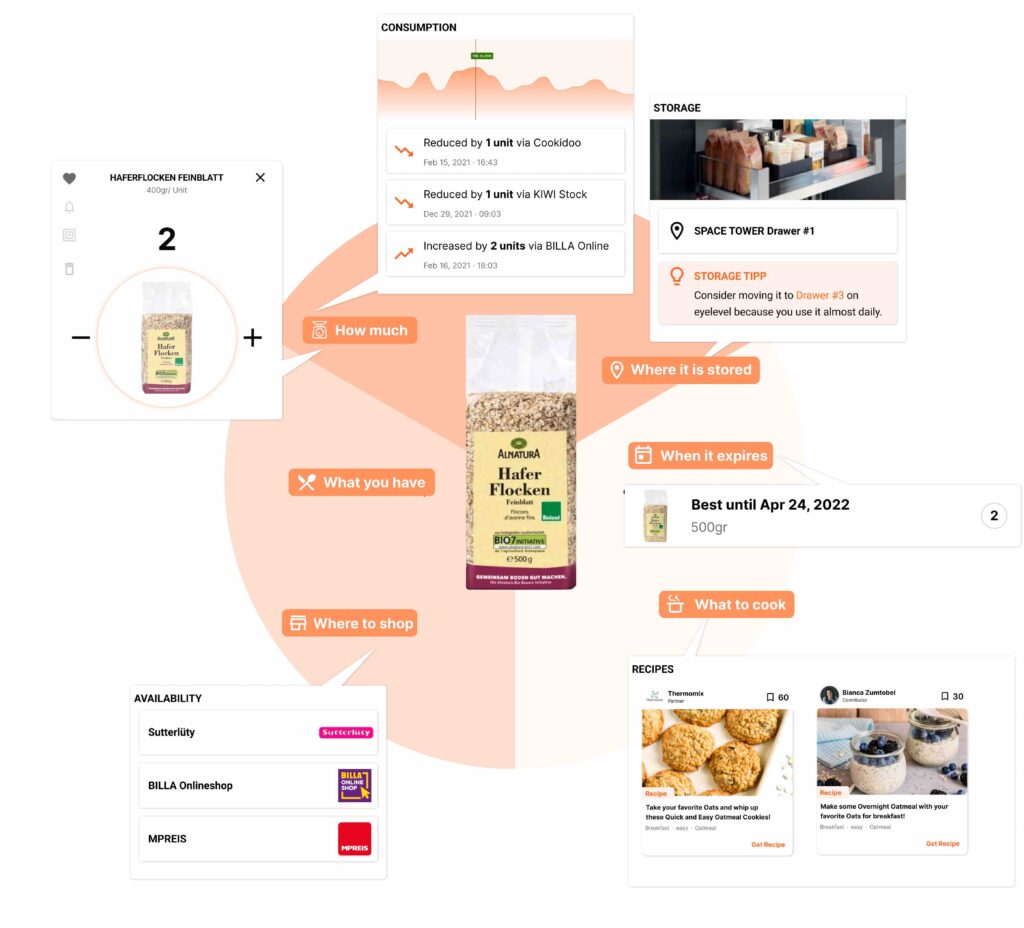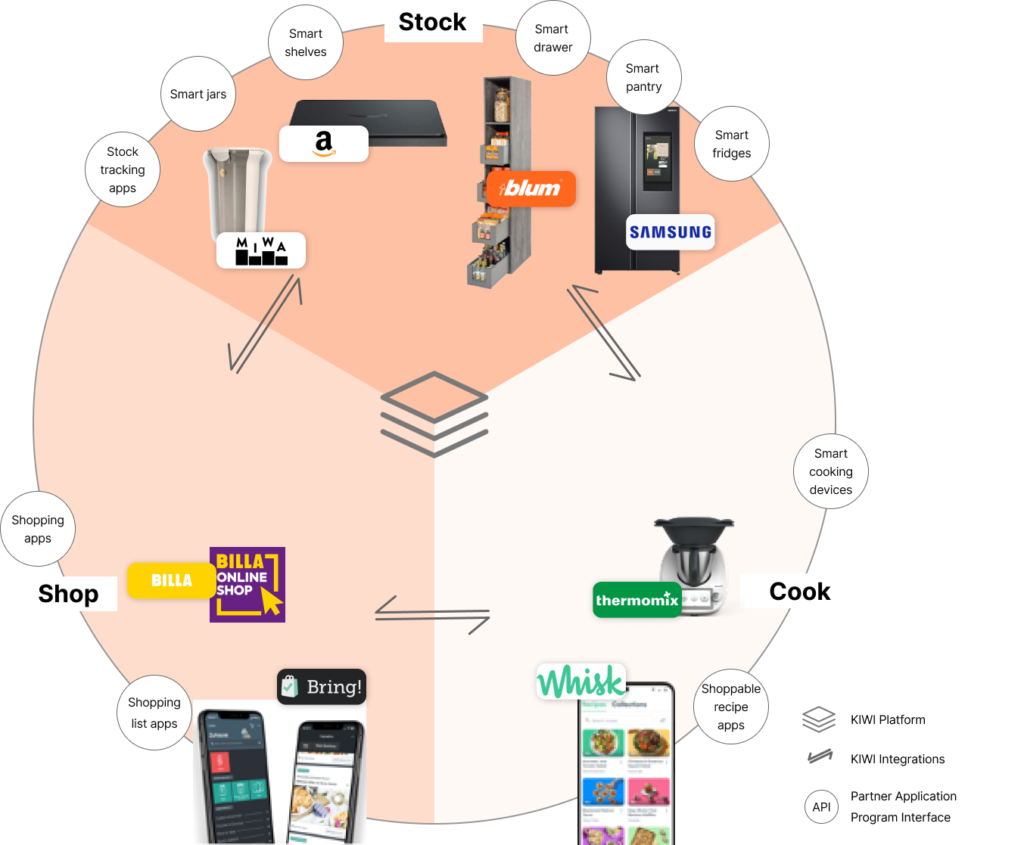 KIWI stock,  stock data points & ecosystem (Examples are illustrative only and have not been defined with partners).​

Consider the hypothetical KIWI integration with Cookidoo, the recipe platform of Thermomix. You can add the ingredients of any recipe to a shopping list or order them online. With KIWI, the shopping list can sync with ingredients already in stock to avoid overbuying and save time looking through your fridge and pantry.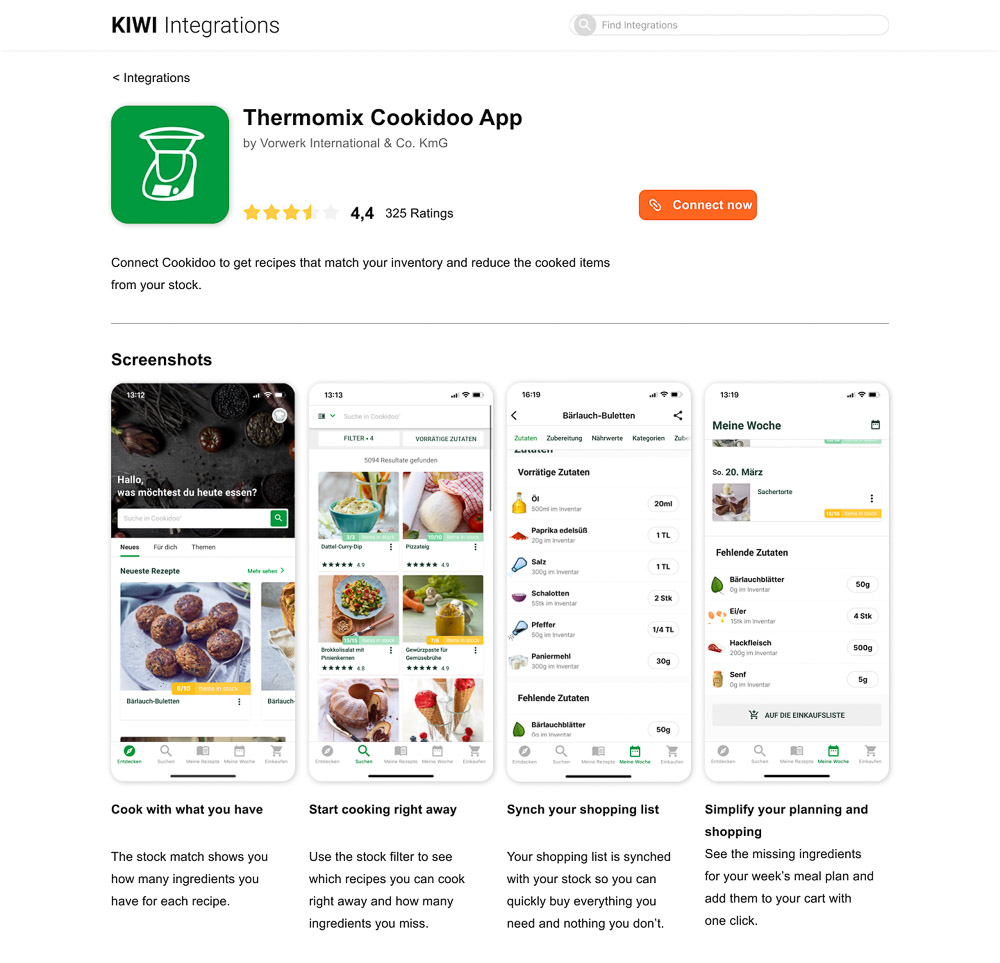 Example for KIWI Integration with Cookidoo
The challenge
Your challenge is to create KIWI integrations that connect apps and devices along the food journey around stock data.  How might we design integrations that provide or consume stock data to enable circularity in the kitchen?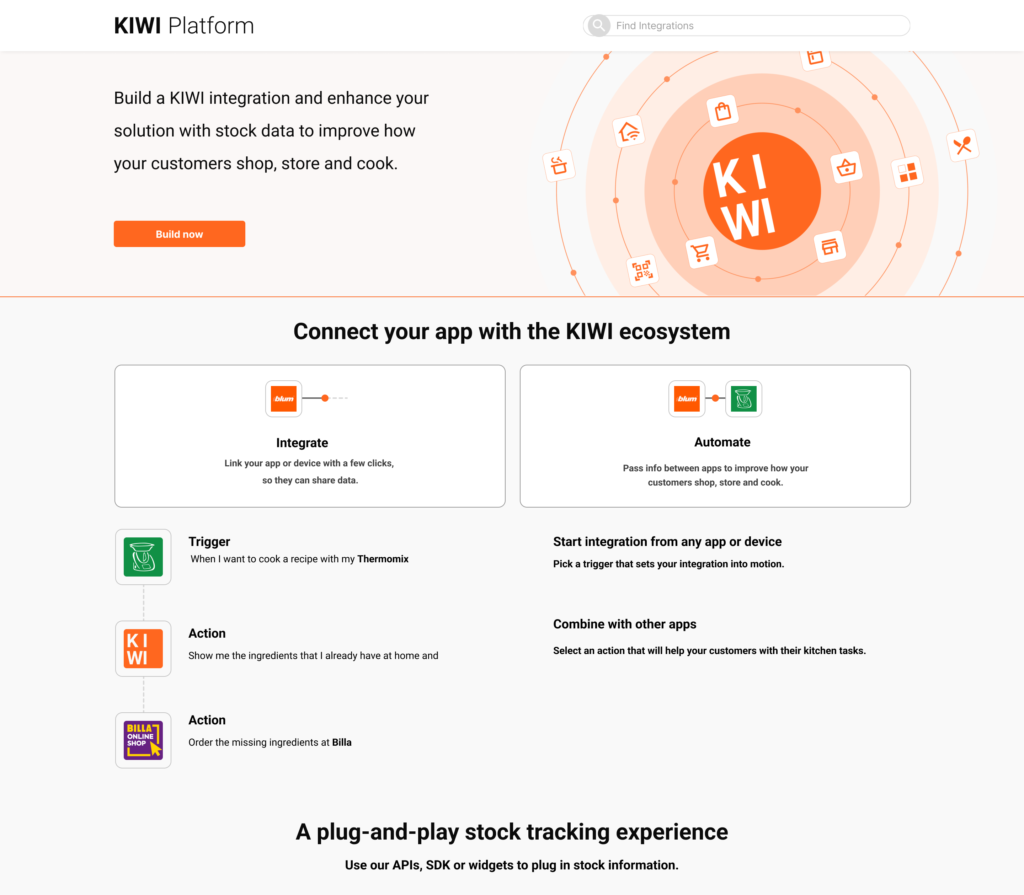 KIWI platforms for partners (Examples are illustrative only and have not been defined with partners)​

KIWI integration marketplace for consumers (Examples are illustrative only and have not been defined with partners)​
To imagine new integrations, you might start by looking at the services you already use in and around your kitchen. Which apps and devices would you like to see connected to stock tracking? How could online grocery shopping or delivery apps include stock tracking? How can we make stock tracking fun and simple? How might smart appliances integrate stock tracking?
You can also think about the specific questions from our ecosystem partners to come up with your integration idea.
Stock tracking
How might we design an easy and convenient way to capture purchased and stored food data at home?
Partner: Philips Domestic Appliances helps people to turn their houses into homes.

Through meaningful innovation, we improve the lives of people, helping them to lead healthier and happier lives every day. We offer innovative products across kitchen appliances, coffee, garment and home care.
How might we provide a simple and fun way to enhance the Cookidoo experience with stock tracking of basic cooking ingredients?

Partner: Cookidoo is Vorwerk's official digital recipe portal. Every recipe has been designed to work perfectly with the Thermomix.
How might we enhance the user experience of the Restegourmet App to link stock management with recipe search and the shopping list?
Partner: Restegourmet helps you find recipe based on available ingredients.
Smart circular packaging
How might we design a smart reusable packaging system that benefits people in and around their kitchen as well as partners across the entire value chain?
Partner: CCL is the largest label company in the world and their Checkpoint division pioneers smart solutions for retailers.
How might we as a bottler and B2B business leverage circular packaging and smart kitchen technologies to interact with consumers directly and reduce packaging waste?
Partner: Coca‑Cola HBC Austria is one of the biggest companies in the non-alcoholic beverage industry in the country and is a franchised bottler of The Coca‑Cola Company. Together we refresh Austria – since 1929.
Smart devices
How might we improve the user experience of the smartfreeze app to make stock tracking with smart containers easy and compelling?
Partner: Smartfreeze containers create new possibilities to track and manage your food and allows you to enjoy freshly prepared food  anytime without worrying whether it is safe to eat.
How might we combine stock tracking of smart jars with a zero-waste online grocery food delivery service?
Partner: Supplyz makes restocking easy with their modular IoT sensor that can track filling levels of any storage container.

Your ideas
We encourage you to design an integration that creates value for end-users as well as potential kitchen partners. Create new and better ways to shop, stock, and cook. Sketch the user experience to show how your solution will work. Think about the business model of your idea. Adopt a system approach, where the role and benefits for the actors involved are specified. You might leverage our partner's API to make your prototype functional.
Create your smart circular kitchen challenge idea to contribute to the twin transition that our world needs: The simultaneous digitalization and sustainability transformation that can change our economy and society for the better.
Collaboration incentives
Details will be added soon. Stay tuned.