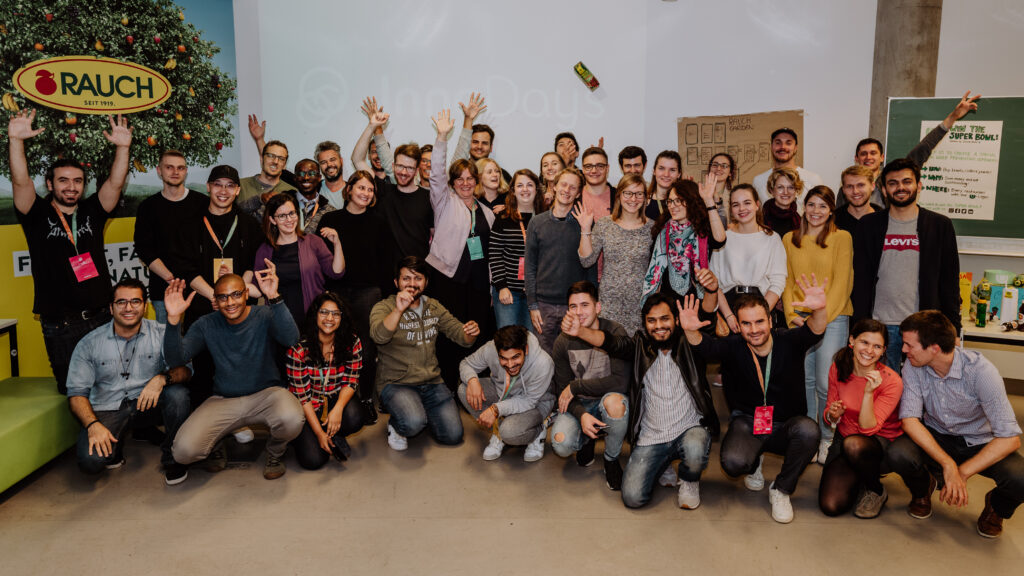 InnoDays Berlin 2019 Recap
TU Berlin hosted the InnoDays Berlin from September 27th to the 29th.  Rauch Fruchtsäfte and Circular.Berlin joined as company and non-profit partners. The event took place during a 48 hours period and included over 30 innovators with mixed backgrounds, ranging from design to business and engineering. The main theme of the event was "Circular Economy", a rising economic paradigm focused on reducing, reusing and recycling. Several experts from the local ecosystem supported the participants as they applied the perspective of circularity to two innovation challenges. Mike Boyle, president of the Circular Economy Club Vienna, moderated the opening session and was a source of great inspiration.
The challenges
Rauch Fruchtsäfte and Circular.Berlin provided participants with two exciting challenges. Rauch Fruchsäfte is looking novel solutions to reinvent the fruit juice experience of the future applying the perspective of circularity. Circular.Berlin aims to explore how we might enable local restaurants with zero-waste cooking practices.
48 hours of innovative ideas, prototyping and validation

On the first day, participants pitched their ideas and teams were formed. Each team consisted of participants with a design, technical and business background. The ideas ranged widely despite the degree of commonality between the two challenges, who both looked into the food industry. In the morning of the second day, participants left the venue and took to the streets to do customers development interviews. In the afternoon, mentors from local companies, design coaches and circularity experts provided feedback as the teams started their prototyping efforts. The feedback from mentors was valuable in order to improve the prototypes, and to validate the solutions developed on the final day.
The final

The final solutions were showcased during the prototype expo. Company partners and mentors evaluated each solution and tackled the daunting task of choosing the best ones. The winners were announced during the event's closing session. Rauch Community Garden won the Rauch Fruchtsäfte category with their idea of  leveraging urban gardens to foster a community of Rauch juice consumers and enthusiasts. Green Rating and Super Bowl premiered the Circular.Berlin category. Green Rating designed a portal to connect customers, restaurants and suppliers who are performing zero waste practices. Super Bowl aims at reducing food waste by signing restaurants and consumers up on a social challenge, which revolves around the offer and purchase of discounted "Super Bowls" containing unsold food. We thank all the company partners, supporters, mentors and participants for an inspiring event!
Highlights
2 challenges
30+ participants
9 prototypes
15+ mentors
Photo download // Thanks to Lukas Schramm Fotografie for great pics!